Noblesville Eye Care - About our Practice
Dr. Amy Walden has been an O.D. in the Indianapolis area for almost 20 years. In 1998, she began working with LensCrafters and has since joined with Dr. Andrew Burkhart and Dr. Elaine McGrath to form the practice of Dr. Amy Walden and Associates. With Lenscrafters locations in Noblesville at Hamilton Town Center and Indianapolis' Glendale Mall, our patients have many options to schedule an appointment with one of our doctors.
Our goal is to provide eye care services for all ages of people in Noblesville, Indianapolis and the surrounding areas. We want all of our patients to feel comfortable and answer all the questions that they have about their overall eye health. Whether it's a question about scheduling, insurance or direct questions to our eye doctors, our staff is here to assist with any questions you have!
What to Expect From Our Eye Doctors
Our comprehensive eye exams are very thorough and should be performed yearly, once you reach school age. Depending on your symptoms and the health of your eyes, our eye doctors may ask you a series of questions and perform a variety of tests to check the overall health of your eyes. Most people think if they are not experiencing symptoms, then they do not need to have their eyes examined. However, many eye diseases do not have any symptoms at all. That is why at our practice, we believe having a yearly eye exam can maintain healthy eyes. Some eye diseases can only be diagnosed through a series of tests. It is better to find these diseases at an early stage, so you can manage them and they do not progress into worst symptoms and possibly blindness.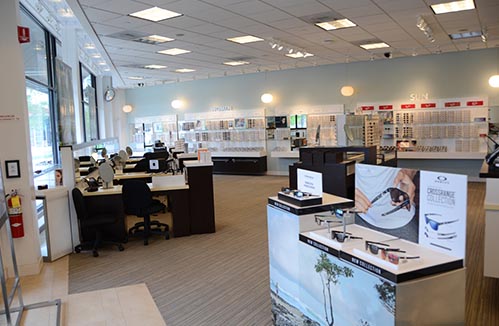 Eye Glasses and Contact Lens
If you are in need of an eye glass or contact lens prescription update or you just want to try a new look, head over and see one of our local Noblesville or Broad Ripple Eye Doctors. Our eye doctors have the experience and knowledge to help you pick out the perfect pair of eye glasses dependent on your prescription needs, style and activity level. Some of our eye glasses at our practice are ready in one hour as well.
We offer a variety of contact lenses and our eye doctors take the time to explain your prescription needs and also the wear length of the contacts you choose. We offer contact lens fittings, so you will never have to leave without knowing how to properly put in your contacts.

Dr. Amy Walden and Associates have been able to help customers with the following:
Noblesville Eye Care - Our Services
Eye Exams
Eye Care Treatment for:
Retinal Screenings for:

Glaucoma
Macular Degeneration
Cataracts

Glasses Fitting
Contact Lense Fittings for:

Disposable
Extended wear
Astigmatism
Gas Permeable
Bi-Focal
Colored Lenses
Contact One of Our Eye Doctors Today!
If you need to book a yearly eye exam or schedule an appointment for other issues you may be having, you can book one online for your convenience. You can also call us at our Noblesville location at (317) 770-1633 or our Broad Ripple location at (317) 259-7552.
Before you head into either of our locations, take a look at our online coupons to see our specials of the month. Our staff of eye doctors are looking forward to meeting you!