Are you not seeing your best? Do you have history of health problems in the family? Has it been longer than a year since your last check up? If you have answered yes, to any of these questions it may be time for a comprehensive eye exam in our Noblesville / Fishers or Indianapolis offices! Our highly trained staff works hard to provide one-on-one, personalized care in order to make you feel comfortable and welcome. The optometrists of Dr. Amy Walden and Associates truly care about making sure that both your visual well-being and overall health are at their best!
When to schedule an eye exam with your Noblesville Optometrist
We recommend having an annual eye exam to keep your eyes in perfect health. By visiting your optometrist at least once a year, it's easier to detect any changes in your vision. Changes in your vision could mean new prescriptions for your glasses or contacts, or they may be a sign of a larger problem. An annual exam is the best way to keep your eye health in check.
But, if something changes with your vision you should make an appointment with your optometrist right away. With two convenient locations in Indianapolis and Noblesville, it's never hard to make an appointment.
Comprehensive Eye Exams
Our Noblesville Optometrists use the most advanced equipment to perform our eye exams. We want to provide our patients with the most accurate results and comfortability while the exam is performed.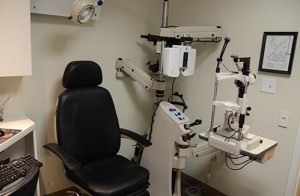 That is why we use Clarifye as a part of our annual eye exams. This digital equipment maps the fingerprint of your eye. Clarifye is extremely precise as the eye profiler can get down to .01 of a diopter. This allows the eye doctor to gather five times more information about your vision, than other tests in the past. The process is quick and painless for our patients. The lens profiler provides a digital read on the patient's previous prescription. Then the visuphor compares the old and new script in an instant. No more awkward, bulky equipment and laundry list of questions. Your doctor can receive digital measurements in about 60 seconds. The results can also be viewed right away. Old and new prescriptions can be viewed and your eye doctor can even tell the difference in day and night vision.
Advantages of Clarifye
Using Clarifye has many advantages for you and your eye doctor. A more in depth look into your eyes, gives your doctor better results.
Precise digital measurements
One of the most advanced technology in the industry
Reveals differences in day and night vision
60 second test
Overview look at your eye health
Early diagnosis of diseases such as: macular degeneration, cataracts, glaucoma, diabetic retinopathy, other health conditions such as tumors and high blood pressure
Optomap Noblesville
We will also perform a retinal screening using the Optomap. Many eye diseases do not show any symptoms, which is why it is important to have a retinal screening with your eye exam. This provides a digital image of a patient's eyes. In the past, other retinal screening devices can examine perhaps about 30 degrees of the retina. With the Optomap your Noblesville Optometrist will be able to analyze up to 200 degrees. With this process, you will see a quick flash, while looking into a"keyhole", then a digital image will be available for you and your doctor to review. In most cases your eyes will not have to be dilated, but this is all dependent on your eye history and overall eye health. These images can be saved for later viewing and comparisons to your current exam.