Experienced Eye Doctors Noblesville
Welcome to our Eye Doctors Noblesville Facility! Dr. Amy Walden and Associates has been serving Noblesville patients for almost 20 years. We strive to provide our clients with a positive and comfortable experience, while they are at our eye care facility. Please feel free to browse over our site and learn more about our services and the background of our Eye Doctors in Noblesville. We offer same day appointments if there is availability in our schedules and have flexible hours to work with our patient's busy lives.
Full Service Facility with our Eye Doctors Noblesville
Our eye care facility is a full service eye and vision center that accepts most insurance and is accepting new patients. We offer comprehensive eye exams (using CLARIFYE), also providing exams for allergies, conjunctivitis, dry or itchy eye and many other eye diseases. Having a comprehensive eye exam is extremely important once your child has started school and also yearly as an adult. Many eye diseases do not even show any symptoms. Getting a thorough eye exam is one of the best ways to maintain your overall eye health. At our Eye Doctors Noblesville facility, our doctors have the experience to diagnose eye diseases such as glaucoma, macular degeneration, cataracts, retinopathy, astigmatism, strabismus and many others. It is very imperative to catch these diseases before they become serious and cause permanent damage.
Quality Care at from our Eye Doctors Noblesville
When you come to our Eye Doctors Noblesville, you will receive the upmost care. Our Noblesville Eye Doctors will spend quality one on one time with you and take the time to learn about your eye and health history. We want our patients to feel comfortable and well-informed when they visit our facility. We will explain in detail what tests and procedures we are providing and answer any of our patient's questions.
Whether you are looking for a new pair of eyeglasses and or a new pair of contact lenses, our Eye Doctors Noblesville will meet the needs of our patients. We strive to ensure your vision requirements are taken care of at your appointment. Corrective lens and prescription management is something we provide multiple times a day. Therefore, we will fit you with the right prescription by using CLARIFYE for your eye exam. CLARIFYE is one of the most precise technologies out there in the eye care industry. This type of eye exam provides your eye doctor with an extremely accurate prescription need for your day and night vision. The initial digital measurement lasts 60 seconds and provides a comprehensive report of your eye health. Not only does it show eye health, but it also will show tumors, diabetes and high blood pressure. You will then be able to see the images of your eyes after your exam. These images are saved for comparison for your next eye exam as well. Children feel comfortable in this type of exam, because of the quickness and the ability to see the images of their eyes after the exam. This will give a complete picture of your overall eye health. Once your prescription is determined, we will then fit you with your eyeglasses and or contact lenses.
Why Choose our Eye Doctors Noblesville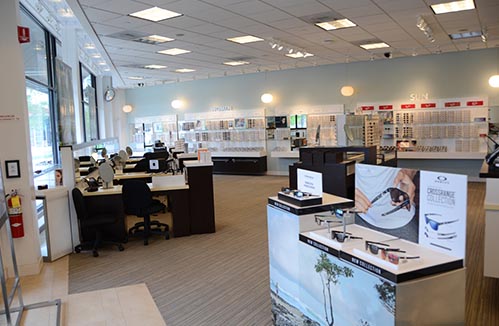 Experience. We offer over 50 years of combined experience within our Eye Doctors Noblesville facility. Dr. Amy Walden & Associates has been serving patients in the Noblesville, Fishers, Carmel, Indianapolis and many other cities in central Indiana.
Technology. We use the most advanced state-of-the-art technology and equipment to ensure our patients are receiving accurate findings. CLARIFYE and the Optomap are two pieces of digital technology that we currently use at our facility. These are some of the most precise technology tools used in the industry today.
Full Service Eye Care Facility. We offer everything from comprehensive eye exams, contact lens fittings, eyeglass fittings, and diagnosis of common eye diseases, diagnosis of more extensive eye diseases, LASIK and more.
Two Convenient Locations. We offer two convenient locations to assist our patients all around central Indiana. With a location in Noblesville and Broad Ripple, along with our flexible hours during the week and hours on Saturday, we are sure to find a day and time to fit in your busy schedule.
Schedule an appointment today with our Eye Doctors Noblesville
If you are looking for an experienced team of eye doctors, look no further than Dr. Amy Walden & Associates. We will make your visit as comfortable as possible and provide you with extensive care for all of your eye health needs. Contact us today to set up your next appointment with your Eye Doctors Noblesville.