Noblesville Eye Doctors With Experience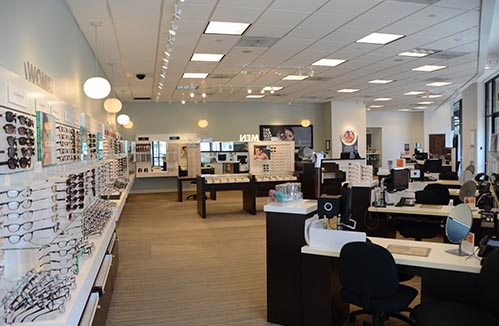 Located in Noblesville, Dr. Amy Walden and Associates is a Noblesville Eye Doctor with a Lenscrafters location in the Hamilton Town Center shopping center near Red Robin. If you are from the Fishers and Noblesville area and are in need of an eye exam, look no further than Dr. Amy Walden and Associates!
To keep your eyes at their best, we recommend an annual eye exam. When you visit your optometrist once a year, it's easier to detect any changes in your vision and creates a baseline for your vision. Changes in your vision could mean a number of things, it could be time for a new prescription for glasses and/or contacts, or it could be a symptom of a larger health problem. Visiting your optometrist annually will decrease your chances of any health issues that pertain to your vision.
During a compressive eye exam, your Noblesville optometrists will perform various tests to evaluate your overall eye health. These tests will check for:
Cataracts
Glaucoma
Age-related macular degeneration (AMD)
Diabetic Retinopathy
You can read more about the compressive eye exam here.
Your First Choice in Noblesville Eye Doctors!
To provide complete eyecare for your entire family, Dr. Amy Walden and Associates also offers these services:
Eyeglass fittings
Do you feel like your eyesight has changed? Or is time to freshen up your look with new lenses? Because of our direct partnership with LensCrafters, our opticians can help find the best pair of glasses for you. To give you the most options, we carry one of the most extensive eyeglass collection in the area, including designer frames!
We make sure the prescription, style, and fitting are right for you before you leave the office. To assure the best possible fit, the opticians at Dr. Amy Walden and Associates also perform eyeglass customization, including contoured shaping, comfortable nose pad systems, rimless lens mounting, all guaranteed with our state of the art accuracy and quick delivery or in-store pickup.
You can read more about our eyeglass fittings here.
Contact Lens Fittings:
Our Noblesville Eye Doctors will work with you to find the best type of contacts for your eyes and lifestyle. We carry a variety of types of lenses, from every day disposable lenses to extended wear (which can be hard to find).
After your initial fitting appointment, we have follow up appointments to ensure your contacts are a perfect match and aren't causing issues.
If you've issues with uncomfortable lenses in the past, don't worry! Our specially trained opticians will find the best and most comfortable lenses for your eye type.
You can read more about our contact lens fittings here.
General Eye Care
Are you one of the millions of Americans suffering from seasonal allergies? Then it's time to make an appointment with your Noblesville Eye Doctor to discuss solutions. We can work with you to help decrease your sensitivity to known allergens.
Not sure what the cause of your itchy, watery or red eyes? We can help! Dr. Amy Walden and Associates have the equipment to help find the source. It's important to have these issues treated by an eye care professional because they can often lead to conjunctivitis (pink eye) and other eye infections.
Schedule an appointment with your Noblesville Eye Doctor Today!
Questions about insurance? Head over to our insurance page to see if Dr. Amy Walden and Associates are in-network for your current insurance plan.
Ready to book your appointment? Give us a call at (317) 770-1633 or schedule an appointment online here.
Before your appointment, make sure to check out our online coupons to save money on your first appointment with Dr. Amy Walden and Associate's Noblesville location.
We look forward to meeting you!