We know that the perfect pair of glasses has to achieve a variety of objectives. The glasses have to highlight all your best facial features, but also be comfortable for you to read, drive your car, and play any sports that interest you. At Dr. Amy Walden and Associates, we know that with all the choices available, the experience can be daunting without the right guidance. Our opticians will work alongside you at both locations to make the choice easy so you walk away with a pair that's the best fit for you.
Whether you feel like your eyesight has changed or you're just ready for a new style, our partnership with LensCrafters allows our optometrists to help you find the best pair of glasses for you.
At Dr. Amy Walden and Associates, we know that your eyeglasses are costly, but an essential part of everyday life. It's imperative that you not only get a pair of glasses that look good but also fit properly. Design, material, and treatments are the three most essential components that make up a pair of prescription lenses. It is important to select the right combination of these three elements for your particular visual needs and to always consult your optometrist while doing so. The knowledgeable staff at Dr. Amy Walden & Associates will consider long-term wearing comfort, style, features, and function when suggesting a new pair of eyeglasses. The eyeglasses become as unique as the person taking them home.
After you find a pair of eyeglasses that fit all three essential elements and place your order for your lenses, make sure you stop by our Indianapolis or Noblesville locations to pick up your new pair! When you pick up your glasses at our stores, our optometrists will inspect your glasses' alignment and adjust them for optimal comfort.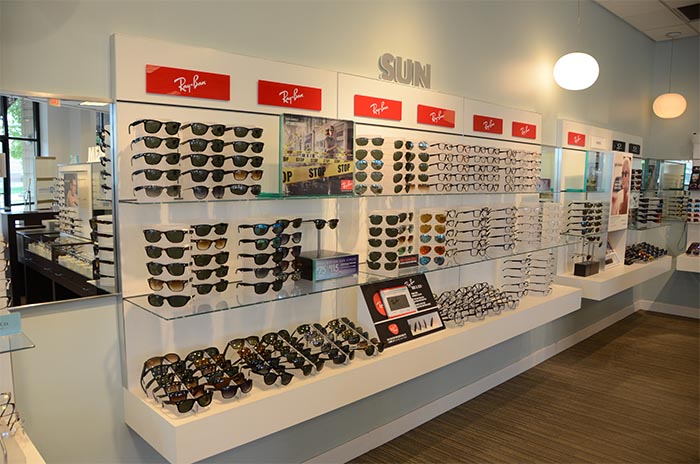 Dr. Amy Walden & Associates - You're Noblesville Optometrist
Choosing the correct eyeglass lens depends largely on its function. From single-vision lenses to multifocal lenses, we are happy to help you find what best suits your needs at our stores. However, if you want a head start on picking the best pair of lenses for you, stop by the LensCrafters website to try out the Lenssimulator. The Lenssimulator will ask you a variety of different questions to help you decide what pair of lenses is best for your needs, or you can quickly browse through all of our lenses.
Regardless of your situation, our Noblesville Optometrists will help determine what types of lenses will work best for you in terms of comfort, function, and design.
When choosing a frame, the shape and size of the frame should enhance the color of your eyes, complement your skin tone and play up the best features of your face shape. For most people, it's important to have not just one pair of glasses, but two different pairs for multiple functions. One pair chosen could be an everyday pair that is worn around the office and lounging around home. The next could be a pair for outdoor activities that have Transitions lenses.
Need some inspiration? Check out LensCrafter's "Find Your Look" tool to find the right look for you!
The Best Noblesville Optometrist Around!
Speaking of Transitions lenses, we also carry a variety of sunglasses at Dr. Amy Walden and Associates! As mentioned in our blog, sunglasses aren't just for the summer! Glare from the sun is an issue every season and it's important to have the right pair of sunglasses to protect you from the sun's harmful UVA and UVB rays. With the wide variety of lens available, you can customize your shades to meet your personal vision needs. A quality pair of sunglasses provides 100 percent UV protection and makes a huge difference in reducing vision strain problems caused by sunlight such as cataracts and retinal damage.
Without sunglasses there is also an issue of glare. Glare washes out colors and details of the things around you, but can easily be prevented with the help of polarized lenses. Polarized lenses will help reduce squinting and, in turn, will reduce eye fatigue and tension headaches.
Many people who own prescription eyeglasses commonly have annoying reflections caused by light bouncing off their lenses. To help combat this we have anti-reflective lenses that help reduce glare during night driving, help protect eyes from harmful UV rays and reduce eyestrain from computer use.
When it comes to all lenses and frames, we know that they are a very necessary and personal choice. At Dr. Amy Walden & Associates in Noblesville and Indianapolis, we have the experience to guide you toward eyewear selections that are both comfortable to wear and that work to complement your face. For help, click here to schedule an appointment.