Noblesville Eye Doctor - Contact Lenses Fittings
Contact lenses give you the benefits of corrected vision without the bulkiness of glasses. While they require a little more maintenance, many of our patients find that contact lenses are more convenient and more satisfying than glasses. If you are interested in visiting Noblesville Eye Doctor, Amy Walden, for a pair of contacts – read below for the benefits!
Benefits of Contact Lenses
Before Your Contact Lens Fitting Appointment
Before we fit you with contact lenses, we perform a comprehensive eye exam. During this exam your visual acuity will be tested using an eye chart and various tests to determine your prescription. This is also to check the overall health of your eyes; we want to make sure your eyes are in good health and there aren't any issues that contact lenses could aggravate. An annual eye exam is recommended for all our patients, especially those with contact lenses. Learn more about our  comprehensive eye exams.
What to expect during a contact lens fitting
During your fitting appointment, your Noblesville Eye Doctor will collect medical history and discuss any eye problems that may affect the effectiveness of contact lenses.
Everyone has a different shape of their eye; what fits a person's eyes may not fit another person's. To determine the best fit, we measure the curvature of the eye, the curvature of the cornea, the size of the pupil, and measure the diameter of the iris. We may also evaluate your body's ability to produce tears.
These test help determine the best type of lens to match your prescription.
The following conditions can make wearing contact lenses difficult and seemingly impossible. Dr. Amy Walden and associates are trained to find the best contact fitting to help you see your best. We work with your eyes to determine the best type of lens to meet all your eyesight needs.
Naturally dry eyes can be irritating, and trying to wear contact lenses can make them even worse. By working with an optometrist, you can find a contact lens that's designed to retain moisture and allowing more oxygen into your eye, for a more comfortable fit.
Astigmatism is caused when either the cornea or the lens behind it is an irregular shape. This can make wearing contact difficult and uncomfortable.
Specially designed lenses correct this curve, allowing the wearer to see clearly. If you have astigmatism and are interested in contacts, call Dr. Amy Walden and Associates to have an optometrist assess your eyes and suggest the best type of lens for you.
Post-Refractive Surgery (such as Lasik)
If still need corrective contact lenses after your LASIK or other refractive surgery, our Noblesville Eye Doctors can recommend the type of lens to best suit your needs. Lasik and other refractive surgery can alter the shape of the cornea, making traditional contacts ineffective or uncomfortable. Optometrists will often recommend either a hybrid contact lens, which offers the vision-correcting benefits of a rigid lens while providing the comfort of a soft lens, or a high-definition lens that can correct refractive problems that may remain after surgery and provide sharper vision to the wearer.
Follow Up Eye Doctor Appointments
After one of our trained optometrists has fitted you with contacts, we recommend scheduling a follow up appointment to check your eyes. An optometrist will be able to detect warning signs, even if you aren't experience any difficulties. At the follow up appointment, one of our trained optometrist confirm that the fit is comfortable and the vision is improved. A dye may be used to see if the contact lenses have been causing damage to the cornea or drying out the eyes too much.
If an issue does arise, your optometrist may prescribe a new type of lens, made with a different material, adjusting the amount of time spent in contact lenses, or recommend a different care regimen for your lenses. It's only in rare cases that it may be necessary to discontinue wearing contact lenses completely. That's only in extreme cases when all other options have been exhausted. Most people have little to no complications and are able to wear contact lenses comfortably.
Regular Contact Lens Exams
As we mentioned before, if you wear contact lenses (no matter how frequently or infrequently) you need to be seen by an optometrist once a year. These annual exams check for problems that might have arisen from contact usage, or any new developing eye health issues.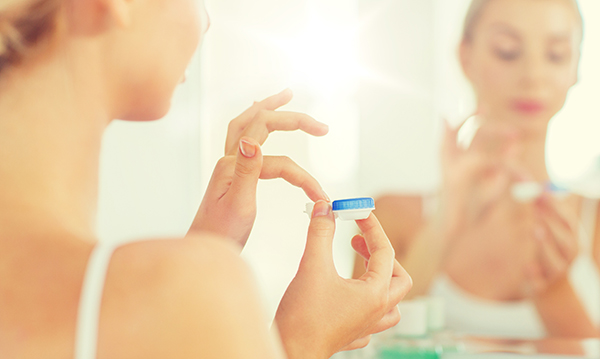 Check out our Insurance page where we list all accepted insurance providers to see if we accept your insurance plan. We will be more than happy to help file out-of-network claims. If you don't see your insurance on the list, don't panic! Give us a call and we'll be happy to assist you with all your insurance needs.
Schedule Your Eye Appointment today with our Noblesville Eye Doctor
While we will be happy to file Medicare claims for you, they reimburse the patient directly. This means the payment will still be collected at the time of the exam.
Ready to make an appointment at Dr. Amy Walden and Associates? Give us a call at (317) 770-1633 or schedule your appointment today by either scheduling online here.
Our Noblesville Eye Doctor looks forward to helping you find the best-fitting contacts that give you perfect vision, without the hassle of glasses.