Time For Your Annual Eye Exam? Stop in and see one of our Broad Ripple Eye Doctors!
Dr. Amy Walden and Associates have been serving the Broad Ripple and Indianapolis area for almost 20 years fulfilling eye care services. We understand it is important to have a Broad Ripple Eye Doctor you can trust and count on. Our experienced eye doctors make your visit comfortable and are always available to answer any questions you have prior to or after your visit. Our skilled Broad Ripple Eye Doctors only use the most up to date technology and equipment to diagnose and then treat all eye diseases and conditions.
Our Doctors conduct:
Comprehensive Eye Exams
Exams to determine and diagnose eye diseases such as Astigmatism, Nearsightedness, Farsightedness, Macular Degeneration, Glaucoma, Cataracts, Dry Eye and Presbyopia
Treatment and management of eye diseases, along with the ability to prescribe medications to treat these diseases
Prescriptions for Glasses, Sunglasses and Contact Lenses
Kid's Exams
Best Broad Ripple Eye Doctors In Town!
Here are some of the other services we offer:
Retinal Screenings for:

Glaucoma
Macular Degeneration
Cataracts

Glasses Fitting
Contact Lense Fittings for:

Disposable
Extended wear
Astigmatism
Gas Permeable
Bi-Focal
Colored Lenses

Eye Care Treatment for:
Comprehensive Eye Exams
Our eye doctors provide comprehensive exams to all ages. Having an annual eye exam is just as important as an annual physical from your primary care doctor. A lot of eye diseases do not show signs, but will show up with the tests we perform.
A visual acuity test will be performed on you, which measures the clearness of your vision. This test is a simple test in which you will read a chart that is 20 feet away from your eyes. Your results are written as a fraction, such as 20/20. A refraction test is used to determine if you have nearsightedness, farsightedness, or astigmatism. Other tests are performed to determine if you need eye glasses or contact lenses and the prescription level you will need. Another test performed is Retinal Photography.
Retinal photography detects:
Macular Degeneration
Detachments
Retinal Holes
Glaucoma
Hypertension Retinopathy
Diabetic Retinopathy
You should expect to have a puff of air sprayed in your eye and also lights shined in your eyes during your exam. But the tests that are performed are all painless. Any other questions, feel free to contact us prior to your appointment at our Broad Ripple location.
Eye Treatment
Our Broad Ripple Eye doctors can check your eyes for everyday issues such as:
Dry Eyes
Eye Infections
Pink Eyes
Allergies
Eye Glasses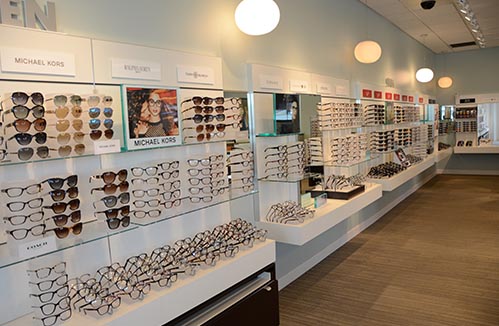 Depending on if your vision has altered since your last visit or this is your first time being fitted for eye glasses, our partnership with LensCrafters allows our eye doctors to assist in finding the best pair of frames for your face. After your eye exam, our doctors will determine your prescription needs and determine which frames fit most comfortably on your face and also for your lifestyle. We provide customized glasses with contoured shaping, comfortable nose pad systems, and rimless lens mounting. Want to see our styles prior to your appointment? Check out LensCrafter's "Find Your Look" tool to find a pair of frames just for you!
Contact Lenses From You Broad Ripple Eye Doctors
Our Broad Ripple eye doctors will determine your prescription from your exam and then fit you for a variety of contact lenses. Our main goal is to find contact lenses that fit with your lifestyle and comfort. There are a variety of contact lenses to choose from.
Contact Lense Types:
Soft
Rigid Gas Permeable
Disposable
Extended Wear
Bifocal
Multifocal
Astigmatism
Colored Lenses
Once you and your eye doctor determine the best fit for you, they will then go over the "wear length" for them. Depending on what type of lens you choose, they may be changed daily, weekly, bi-weekly, or monthly. If you have any other questions regarding your contact lenses in the future, they can be answered by your Broad Ripple eye doctors.
Kid's Exams
We recommend that children should have their first eye exam at 6 months of age. If they are not having any issues, children should have an additional eye exams at age 3. They should also have an exam right before they go into first grade, which would be around the age of 5 – 6.
Contact Our Broad Ripple Office Today!
At Dr. Amy Walden and Associates, our main goal is to offer quality vision services in a comfortable environment when you visit our facility.
Whether you have a question about scheduling, insurance or any other questions for our eye doctors, feel free to reach out today! To book your next appointment, please call our office in Broad Ripple office at (317) 259-7552. If you'd like to schedule an appointment online click here!
Check out our online coupons before you arrive to our Broad Ripple location to save on your first appointment with Dr. Amy Walden and Associates.
Our Broad Ripple Eye Doctors are looking forward to meeting you!