Looking for an Eye Doctor for your Eye Exam Indianapolis?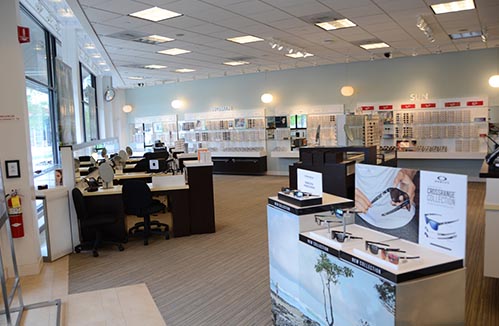 Dr. Amy Walden and Associates have been performing eye care services in Indianapolis and Noblesville for over 25 years. Our team of doctors are certified optometrists with an abundant eye care experience. Our goal is provide the best hands on care for each individual Eye Exam Indianapolis patient. We take the time to answer all of your questions and offer a welcoming environment to make our patients comfortable. We strive to explain your overall eye health, so you leave with a full understanding of your eye care needs.
We Focus on Eye Exam Indianapolis
One of the main items we focus on at our practice in the Indianapolis area are comprehensive eye exams. Depending on your age, it is very important to keep current with your Eye Exam Indianapolis. According to the American Optometric Association (AOA), infants should have their first eye exam at 6 months, the next eye exam should occur around the age of 3, and then once the child reaches 6 or first grade they should have another. When your child reaches school full time, it is important to have an exam every 2 years. But if your child is experiencing any vision problems it is important to set an appointment with your local Indianapolis eye doctor.
Symptoms to look for in your child:
Tilting their head
Sitting close to the television or electronics
Placing a book to close to their face
Squinting
One eye turning in or out
Frequency of rubbing their eyes
Shorter attention span than normal
Sensitivity to light
Problems with eye-hand-body coordination
Avoiding activities they used to love
Adult Eye Exam Indianapolis
The AOA recommends a comprehensive eye exam every two years for adults ages 18 to 60. If you are 61 or older, you should have an eye exam every year. Some people are at higher risks then others for potential eye diseases. If you are at risk for any eye issues, it is recommended to have an exam more frequently such as once a year or if you are experiencing any symptoms.
Risk factors for adults include:
A family history of any of these eye diseases (macular degeneration, cataracts, glaucoma and many others)
Diabetes
High blood pressure
An occupation that can cause vision problems/long time use of computers, etc.
Taking prescriptions that can cause eye related symptoms
Previous eye injuries
Previous eye surgery
What to expect at your Eye Exam Indianapolis
Our Indianapolis practice offers comprehensive eye exams using the most state of the art equipment with the latest and advanced technology. A variety of tests will be performed by our eye doctors to check for certain diseases such as cataracts, glaucoma, age-related macular degenerate disease, etc. The clearness of your vision will be tested by a visual acuity test. This is a familiar test that has you read from a chart, 20 feet away from your eyes. Your results are written as a fraction, 20/20 would be one example of this. You will be tested for nearsightedness, farsightedness, or to see if you have an astigmatism. If you are in need of a prescription, this test will help best determine which type of eye glasses or contact lenses you will need. Another test performed is Retinal Photography.
Retinal photography detects:
Diabetic Retinopathy
Macular Degeneration
Glaucoma
Cataracts
Detachments
Retinal Holes
Hypertension Retinopathy
Other tests may be performed depending the symptoms you are experiencing and your family history. Overall, you eye exam will be painless, but expect a puff of air sprayed in your eye and also lights shined in your eyes during your exam. Any other questions, feel free to contact us prior to your appointment at our Indianapolis location.
Eye Exams Detects Diseases
The most important reason to have an Eye Exam Indianapolis performed is to see if there are any underlining issues/diseases that your eyes are experiencing. Many eye diseases do not have any symptoms or cause any pain, the tests performed are a clinical way your doctor can determine if you may have the start of any diseases. Our Indianapolis eye doctors will determine the overall health of your eyes. Eye exams are just as important as having a yearly physical from your doctor. It is best to see what is going on with your eyes, before certain diseases progress. If you have any concerns, contact us today to schedule an appointment.
Contact us Today for Your Next Eye Exam Indianapolis
Taking care of your eye health is a critical part of life. At Dr. Amy Walden and Associates we offer a comprehensive eye exam for people of all ages with the most comfortable environment. We also offer flexible hours as we know most people have hectic schedules. Contact us today for your next Eye Exam Indianapolis today!