Need an Optometrist Located Near Geist?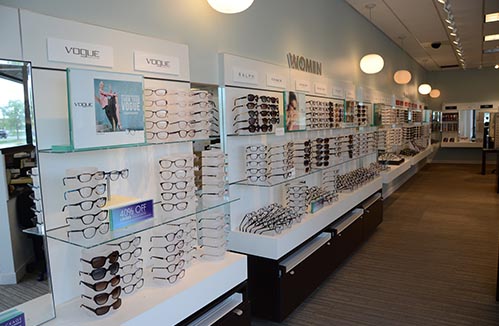 Our Geist Optometrist is located in Lawrence Township, in northeastern Indianapolis and southeastern Hamilton County. Dr. Amy Walden and Associates have been performing eye care services to Geist residents for 20 years.
We are a full service eye care facility where our Geist Optometrist will perform comprehensive eye exams, retinal screenings, offer a variety of eye glass/sunglass option, contact lens fittings and diagnose many eye diseases.
Geist Optometrist Services
Comprehensive Eye Exams
Depending on your age it is recommended that you have an annual eye exam every year. If you are experiencing any eye issues, it is important to schedule an eye appointment with your Geist Optometrist so the condition does not get worse and cause further damage to your eye. If you have not had an eye exam within the last year, this is a good time to set up and appointment with our optometrist.
A wide variety of tests are performed to examine your eyes. The standard eye chart test is a common test that will occur, along with more in depth testing such as a retinal screening, visual acuity tests, refraction, pupil dilation, visual field test or glaucoma. This is all determined when the optometrists performs the basic tests and then will have a feel of what other tests you individually will need.
Usually a comprehensive eye exam with on our Geist Optometrist will take approximately an hour to an hour and a half. This is all dependent on your eye history and the number of tests your eye doctor will need to perform to fully evaluate your eyes. Schedule an appointment today at one of our locations near.
Eye Glass Fittings
At your Geist Optometrist visit we will assist you in finding the perfect eye glasses or sunglasses based upon your needs and daily lifestyle. We understand that you not only want a stylish pair of eye glasses, but a pair that fits comfortable on your face. Our optometrist will assist in picking a frame, that correlates with the shape of your face, enhance the color of your eyes and complements your skin tone.
If you prefer to get a head start on picking the best pair of lenses for you, check out the LensCrafters website and use the Lenssimulator. The Lenssimulator asks a variety of questions to narrow down a few options of lenses that will best fit your everyday needs and prescription needs specifications. We have single vision lenses to multifocal lenses, there is sure to be a fit that works best for your prescription needs. Check out LensCrafter's "Find Your Look" tool to find the perfect options that fit just for you!
We offer many different options for sunglasses at our Geist Optometrist Facility. Feel free to ask your optometrist about our variety and they will fit you in a pair with your prescription requirements also.
Contact Lenses
Before our eye doctor will fit you for the right contact lenses, they will perform a comprehensive eye exam. Our eye doctors will determine the level of your refractive error (commonly known as nearsightedness, farsightedness, or astigmatism) to see what contact lenses will be best suited for your needs. Contacts do require a little bit more maintenance, however, if you are active, they may be a good fit for you.
Once your optometrist fits you with the right contact lense, they will go over the wear schedule with you. Contacts may need to be changed or taken out daily, weekly, bi-weekly, monthly depending on what type of lens is the right choice for your needs. This is all dependent the lifestyle you live and the prescription for your eyes. It is extremely important to follow the wearing schedule that your Geist Optometrist recommends for you.
Benefits of Contact Lenses:
Improve all-round vision
No glare
Easy to care for
Convenient
Practical for active individuals
Does not alter appearance
No extra weight on your face
No fogging up
Option to alter eye color
General Eye Care
Whether you are suffering from allergies, an eye infection, pink eye or any condition that interfering with your vision or irritating your eyes, we have the perfect optometrist to assist with all of your needs. It's important to have these issues treated by an eye care professional because they can often lead to other eye infections or potential permanent damage to your eyes.
Schedule an appointment with your Geist Optometrist!
Interesting in a list of networks Amy Walden and Associates are a part of, check out our Insurance Info page for a complete list.
Ready to schedule an appointment to set up your comprehensive eye exam or have questions for our optometrist, give us a call at (317) 770-1633 . Schedule an appointment online here!
Before you head in to our office near Geist, check out our online coupons to see the savings we offer each month.
Dr. Amy Walden and Associates look forward to meeting you and becoming your next Geist Optometrist.