Have You Heard of the Accufit Digital Measurement System?
If you wear glasses or are in the need of a new prescription, we have great news for you! Lenscrafters now offers an exclusive digital measuring system for our clients. This unique device is called the AccuFit Digital Measurement System and it's at Dr. Amy Walden and Associates Indianapolis Eye Care Center. It is an advanced way to provide more comfort and clearer vision to our patients that wear eyeglasses.
AccuFit is a device that measures your eyes five times more precisely than traditional methods, down to the tenth of a millimeter. This hi-tech device will replace rulers and other methods of measuring with state-of-the-art equipment. This advancement helps our clients see the world more clearly.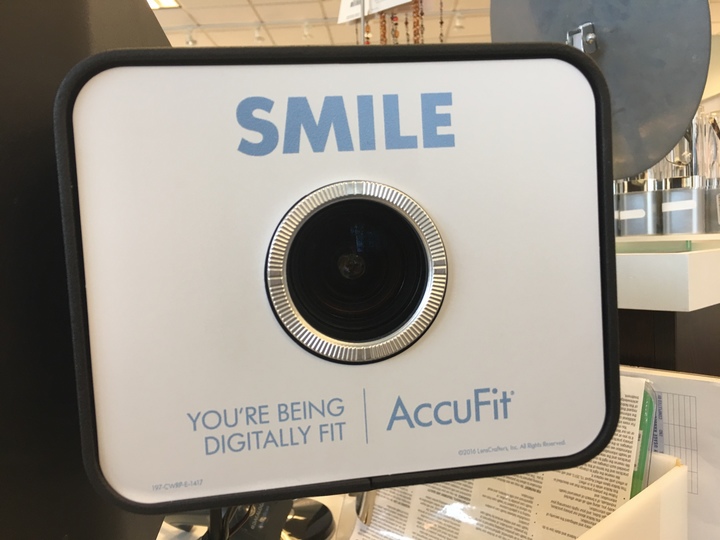 This digital measuring system measures the exact location of your pupil, the spacing of your eyes, and the shape of your glasses. First, our eye doctors custom-fit your frames to your face to get accurate measurements. The next step is to fit the sensor into your frames. The fit sensor works together with the AccuFit system to calculate precise measurements. Our system captures a digital image that is analyzed by our exclusive software used only by Lenscrafters and only at Dr. Amy Walden & Associates Indianapolis Eye Care Center.
Can you imagine having a sneak peek of what your glasses will look like on your face? Now you are able to with this new system. These images capture all different angles while you are trying on your multiple frames. You can then view all of these images and pick which one looks best on you.
Having clear vision requires precise measurements to ensure you are receiving the correct prescription for your eyeglasses. The AccuFit system, determines the exact location of your pupil; this measures your eyes five times more accurately than traditional methods to help determine the ideal position of your prescription, making your glasses and your vision a perfect fit for you.
Your frames are then crafted to fit your face, having the exact location of your pupils, where your eyes will line up within the frame and the distance between your eyes makes this properly more smooth. All of these items will ensure your vision is clear and comfortable from your eyeglasses.
Benefits of the AccuFit Digital Management System
You will receive frames that fit just for you: With advanced technology, our eye doctors will receive precise measurements that ensure not only clear vision but comfort as well. You will also already have an idea of what your glasses with look like from all different angles.  This will help you choose the perfect style for you. You can compare 4 sets as well.
Lenses and coatings: Our Lens Simulator shows before and after images of how different lenses and coatings will look on you. This helps educate you more on these types of lenses.
AccuFit gives precise measurements: Accufit is within a tenth of a millimeter of your measurements. This is one of the most precise devices out there. This ensures the proper placement of your script.
Visit Our Indianapolis Eye Care Center to Experience Our AccuFit Technology
With technology ever-changing, our eye care facility keeps up to date with the trends and advances in the eye industry. Next time you are in need of a pair of eyeglasses, contact us to make an appointment at our Indianapolis Eye Care Center and let us show you the new AccuFit device and show you the benefits of this great product.