Are you searching for an Indianapolis Optometrist?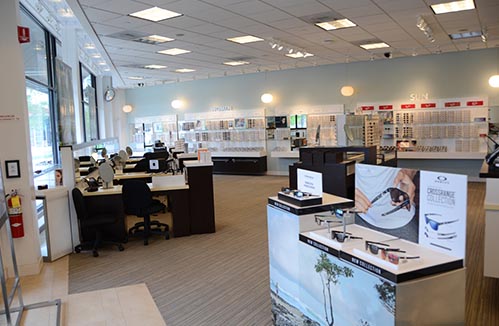 Dr. Amy Walden & Associates are located in Broad Ripple, Indianapolis at the Glendale Mall Lenscrafters. We have been providing optometrist services to the Indianapolis and surrounding areas such as Avon, Brownsburg, Carmel, Fishers, Noblesville, Westfield and many more for over 20 years. With our experience and extensive knowledge in eye care diseases, we are the right fit for you and your family. We are accepting new patients of all ages with our Indianapolis Optometrist.
Pediatric Indianapolis Optometrist
When was your child's last visit to the optometrist? It is very important to be aware of when your child should have their eyes examined. According to the American Optometric Association (AOA), infants should have their first eye exam around the 6th month mark, then again around the age of 3. Once they become school aged, it is best to have them checked every 2 years, unless they are showing signs of any eye problems. We are now accepting new pediatric patients at our Indianapolis location.
Here are a few items to look out for in your child:
Avoiding activities they usually enjoy
Eye-hand-body coordination issues
Sitting close to the television
Tilting their head to look at things
Placing a book to close to their face
Squinting more then normal
An eye turning in
Short attention span
Sensitivity to light
Rubbing their eyes frequently
If your child is experiencing any of the above, please schedule and appointment with an optometrist today.
Comprehensive Eye Exams by our Indianapolis Optometrist
Our Optometrist recommends having a yearly eye exam as an adult. It is important to have your eyes checked because many vision problems and diseases do not even show any signs. The earlier these items are detected the easier they are to manage. Our comprehensive exams are performed by a digital system called CLARIFYE. This invasive system allows our eye doctors to perform a more advanced exam of your eyes. With this feature your exam can be performed in minutes and the patient can view images, videos and vision simulation upon completion. There is no longer a guessing game and your eye doctor asking multiple questions about your prescription. The digital precision will give your eye doctor a good idea of your prescription from the beginning of the exam. Not only can this feature detect cataracts, macular degeneration, dry eye and many other eye diseases, but it can also detect high blood pressure, tumors and diabetes. One of the other great features is CLARIFYE provides you with your precise prescription for day and night vision. Overall, it is the most advanced way to perform an eye exam with the most accurate results.
Eye Glasses
If your Indianapolis Optometrist prescribes you a prescription for eye glasses or contact lenses, we have a large selection for you and your family to choose from. We have a variety of brands for all ages and styles that will be sure to fit your fashion desires.
Our Optometrist will be able to assist you when you are picking out the perfect lens for your individual needs. There are many factors that go into picking out the right fit for your eyes. We offer at large selection at our Indianapolis eye center.
Eyeglasses should showcase your best features (such as your eyes, etc.).
The frame shape should work well with your face shape.
The frame size should also be proportioned with your face size.
Skin tone is another factor to consider.
Lifestyle is important as well. How active are you? Do you sit in front of a computer all day?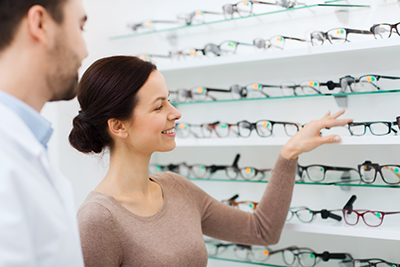 Choosing the perfect eyeglass frames is something that can affect the way you feel in your glasses and how well they fit your face. Our Indianapolis facility offers a tool to assist with this process for you to browse over before your appointment. The Lenssimulator will ask you a variety of different questions to help you decide what pair of lenses is best for your needs, or you can quickly browse through all of our lenses. This will give you a head start and you will be familiar with the questions that your Indianapolis Optometrist will ask during your eye glass fitting appointment. We also offer prescription sunglasses as well. Sunglasses are not only for the Spring and Summer, but all year long. These will protect your eyes from UV rays and glares from the sun. Our large selection will be sure to fit your style.
Contact Lens
Once you are ready for your new contact lens, your optometrist will ask a series of questions to ensure we fit you with the best contact lens for your prescription and lifestyle. Measurements will be made to determine the shape of your eye, the curvature of the eye, curvature of the cornea, size of the pupil, measure the diameter of the iris. We may also evaluate your body's ability to produce tears. Once we have all of the necessary items we will find the best fit for your lifestyle. There are many options of wear length, this is very important to follow and discuss at your appointment at our Indianapolis facility.
We offer a variety of services at our Indianapolis Optometrist Facility
Comprehensive eye exams for all ages
Exams to diagnose eye diseases such as – allergies, astigmatism, cataracts, dry eye, glaucoma, farsightedness, nearsightedness, macular degeneration and presbyopia
Treatment and control of many eye diseases
Prescriptions for medications to treat eye diseases
Prescriptions for eyeglasses
Prescription sunglasses
Contact and eye glass fittings
Accepting new patients
Contact our Indianapolis Optometrist today!
Our Indianapolis Optometrist can answer all of your questions that you have about your eye concerns. Please browse over our FAQ's for further assistance. Please feel free to contact us if you have any questions about our insurance providers. Our Indianapolis location is accepting new patients, please feel free to set up an appointment today.We look forward to working with you on all of your eye care needs.