Experienced Noblesville Eye Care Facility
Has it been over a year or more since your last comprehensive eye examination? Do you need to be fitted for a new pair of eye glasses or contacts? Have you pondered the idea of Lasik surgery?
Answering yes to any of the above questions means it's time to stop into Dr. Amy & Associates for your Noblesville eye care needs.
Dr. Amy Walden & Associates has been a provider of Noblesville eye care services to Noblesville and surrounding area for almost 20 years. Whatever your vision needs, we devote every day to providing exceptional quality eye care to patients throughout the Noblesville area. We are ready to serve you in one of our locations in Noblesville, Fishers or Indianapolis. You'll be pleased to learn that we provide a full range of eye care solutions including contact lenses, a rich variety of fashionable eye ware and LASIK surgery. You'll also find that we have competitive and affordable prices for all your Noblesville eye care requirements.
After viewing our website, you will learn more about our comprehensive eye exams, finding the best eyeglasses or contacts for your prescription needs and also the benefits of Lasik surgery. Let's take a look at a few of these items in more detail.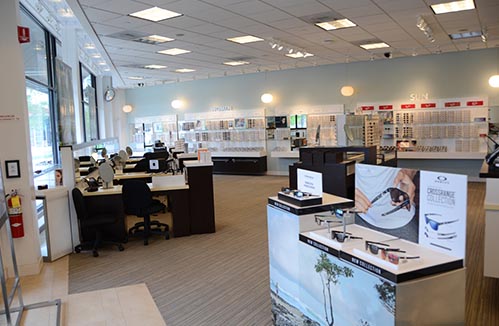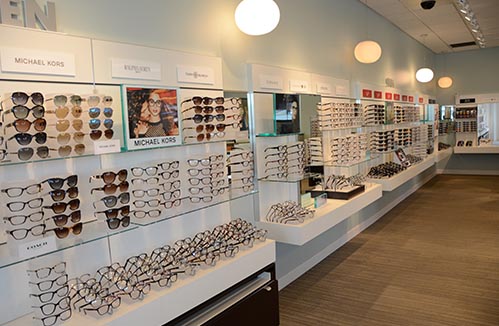 Noblesville Eye Care Facility Services
Comprehensive Eye Exams
We recommend having a comprehensive eye exam every year. Having a routine eye exam is just as important as having a regular physical. Not only will your vision be evaluated, but you will be checked for eye disease as well. Many eye conditions do not show any sign of pain; therefore it is important to have your eyes checked regularly. Our exams include the standard refraction and a thorough health check of the eye using state of the art technology. In addition to your prescription we include a Retinal Screening, which is a health check for problems such as glaucoma, macular degeneration, and cataracts. Check us out for your next exam and for your Noblesville eye care services.
Eye Glass Fittings
Whether your eyesight has altered or you're just ready for a new style of eyeware, our partnership with LensCrafters allows our opticians to help you find the best pair of frames. Your frames must be custom fit just for you and your eye prescription needs. Our optical staff will work with you and are highly trained to make sure they fit comfortably on your face and are adjusted correctly for your pupil position. We provide customized eyeglasses with contoured shaping, comfortable nose pad systems, and rimless lens mounting. Need some inspiration? Check out LensCrafter's "Find Your Look" tool to find the right look for you! We will be sure to find the perfect match for your eyeglass frames.
Contact Lens Fittings
Before we fit you with contact lenses, we perform a comprehensive eye exam. During this exam your visual acuity will be tested using an eye chart and various tests to determine your prescription. This is also to check the overall health of your eyes; we want to make sure your eyes are in good health and there aren't any issues that contact lenses could aggravate. Our eye care options are contact lenses available including disposable, extended wear, astigmatism, gas permeable, bi-focal, and colored lenses. Contact us for your next eye care and contact lens needs.
LASIK
Do you want to dramatically improve your vision? Dr. Amy Walden and Associates works with TLC Laser Eye Centers to provide our customers the best LASIK surgery options available. As your Noblesville eye doctor, we know your eyes better than anyone else and play a vital role in providing you the best LASIK care.
We work with TLC Laser Eye Centers because they have a strong focus on improving our customer's vision as safely as possible. They are North America's largest LASIK provider, having performed more than 2.2 million laser vision correction procedures in over 20 years.
Just like at Dr. Amy Walden and Associates, TLC cares about your eyes. Their Lifetime Commitment® ensures that if your eyes change down the road, there will be a no-charge, same-technology enhancement procedure provided for life.
Contact our Noblesville Eye Care Facility today!
Whatever your reason, please contact us at Dr. Amy Walden and Associates for your eye care services. We look forward to connecting with you online, on the phone or in person. We welcome any questions that you have about any vision concerns. Contact us today at (317) 770-1633 or schedule an appointment online here. We look forward to being your next Noblesville eye care provider.