Halloween Eye Safety From Your Carmel Eye Doctor
It'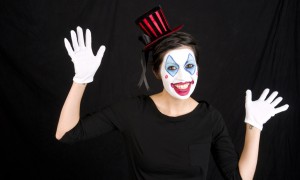 s that time of year again! Full face and eye makeup can help bring your costume to life, but it can also cause some serious problems for your eyes. But eye safety doesn't mean jeopardizing your Halloween outfit! Dr. Amy Walden and Associates your Carmel Eye Doctor, has created a guideline for keeping your eyes safe so you can have the best Halloween yet!
Makeup
Don't share makeup– Sharing makeup can increase the risk of infection of the eyes. Make sure clean brushes with warm soapy water in between different products.
Only use FDA approved Makeup– The FDA has to approve cosmetics for use on skin. Using unapproved products may result in adverse reactions. Read more about the FDA's suggestions for Halloween Makeup here.
Avoid using makeup near the eye– Keep makeup away from the "lash line and lid margin; this is a sensitive area and can easily become infected and irritated. If this occurs, remove any surrounding makeup (read below for suggestions), and rinse the eye with cool water.
Follow instructions for makeup removal– If the label suggests using cold cream, use cold cream. The same goes for soap/cold water and makeup remover. Be sure to be gentle around the eye area- the skin is delicate and can easily be irritated.
Remove makeup at the end of the night– In addition to keeping your pillowcase clean, taking off your makeup at the end of the night prevents makeup from getting into your eyes and causing irritation and possibly infection
Only wear decorative lenses prescribed to you by an Eyecare Professional– These are usually made by unlicensed manufactured who may not follow hygiene guidelines for contacts. They can cause eye infections which can lead to corneal ulcers, which can cause permanent blindness. If you still want to wear decorative contacts, make an appointment with your eye doctor to discuss products that are proven to be safe for eyes.
If makeup gets in the eye, rinse with cool water. If irritation or redness persists, make an appointment with your eye doctor to prevent any further damage.
Weapons
Many costumes come with swords or other sharp objects. Attaching these objects to the waist can help prevent any accidents. Children should be supervised and discouraged from "play fighting" to reduce the likelihood of eye injuries from these weapons.
Stay Safe This Halloween
Following these precautions from your Carmel Eye Doctor will prevent any complications from full-face and eye makeup.
Have a safe and fun Halloween!