Many people have had fear of going to the eye doctor that stemmed from when they were a child. Whether it was the fear of simply dreading going to a doctor in general, lights being shined in your eyes or the dreaded dilation of your eyes. Most people put it off for reasons that are be-known to themselves. However, what if we told you with new technology, this process can be quick and painless?
Technology changes ever so quickly and with these changes, Dr. Amy Walden and Associates have adapted to many of them in the eye care industry. Clarifye is one of the most beneficial changes that we have added to our eye care facility in the past few years. Clarifye is a digital eye exam that is quick, comfortable and precise. This new digital technology produces the fingerprint of your eye. This digital machine uses some of the most advanced eye instruments out there, which are the lens profiler, vision profile and the digital projector. All of these components capture better views of your eye, with more precise findings. Day and night vision can be recorded since the vision profiler measures how much light passes through your eyes. More accurate prescription are provided, with all of these advances as well. No more charts on the wall to read from a distance, this machine can provide everything your eye doctor needs within minutes.
Now that you have a little bit of the background about what Clarifye is, let's take a look at the benefits.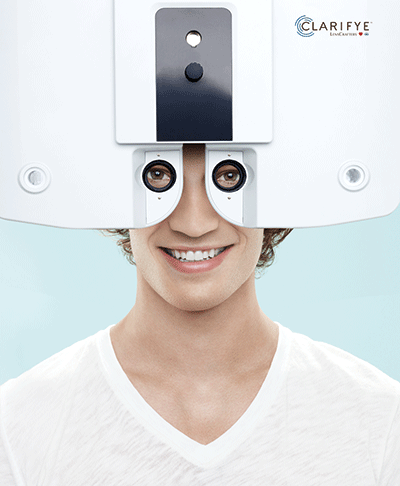 Less questions. The digital machine is able to show so much information, with precise results. Less questions such as: What is your old prescription, what do you see on line 3 and so on.
Extremely Precise. The profiler is 5 times more precise than the older equipment on the market. This measure 5x more optical characteristics about your visual system.
More Accurate Prescriptions. Clarifye's digital lens profiler can read your old prescription off of your current eye glasses. You can then see the difference between the two.
Contact Fitting Made Easier. Contact lenses are fit properly 95% of the time. This makes the fitting process much easier on our patients.
Storage. All the data is stored in one place. This not only helps the eye doctor view the results quickly, but they can be shared with you instantly. After you leave you will also have the data emailed to you for review. No more second guessing what your eye doctor told you, all the details, images and summaries are together in one place.
Day and Night Vision. It is known that 10% of people see differently during the day and night time. Eye exams in the past could not specifically test your day and night vision. With Clarifye, this digital machine looks at the entire eye, which can measure vision for all times of the day.
Comfortable. With Clarifye, it is more than likely that you will not have to have your eyes dilated. This machine looks similar to looking through a pair of sunglasses. It is quick, easy and painless for our patients.
Detects Overall Health. Clarifye can not only help with diagnosing common eye problems and diseases, but it can also diagnosis other health issues. These include diabetes, tumors and high blood pressure.
Clarifye is one of the most advanced tools that has come to the eye care industry. With such precise results, this eye exam will only improve the overall help of our patients. Our goal is to provide our clients with the best overall health for their eyes. With Clarifye, we are confident we can do so. Set up an appointment today!