An Anderson Eye Doctor With Experience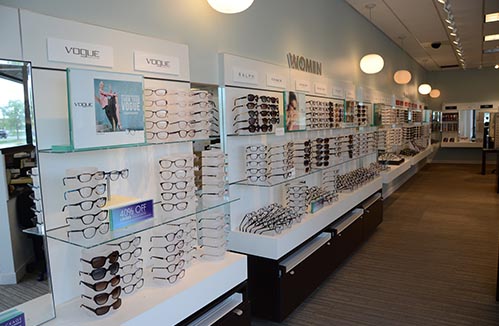 Dr. Amy Walden & Associates have been performing eye care services to Noblesville, Fishers, Indianapolis and surrounding areas such as Anderson for over 20 years. If you are looking for a caring, experienced Anderson Eye Doctor who take the time to access any problems you may be having with your eyes, then come check us out! We are accepting new Anderson patients at this time.
We are a full service eye center with a variety of hours available to work around our Anderson patients busy schedules. We also have two locations to assist people in multiple areas and an eye doctor specific to your needs.
Services Performed By Our Anderson Eye Doctor Include:
Comprehensive Eye Exam
Eye Glass Fittings
Contact Lens Measurements/Fittings
Sun Glass Prescription Glasses
Retinal Screenings
Pediatric Eye Care
Eye Care Treatment for: Allergies, Pink Eye, Eye Infections
Accepting New Anderson Patients
We offer a variety of eye glasses that are ready in one hour! To help our Anderson patients easily find eye glasses that are right just for them, check out our Lenssimulator. The Lenssimulator will ask you a variety of questions to determine what type of lens is right for you and your lifestyle.
It is important to have your eyes examined every year, many eye diseases may be present without any symptoms at all. Routine eye exams are critical to maintaining the overall health of your eyes. There are many eye diseases that may be occurring which you are not even aware. A routine eye exam can help detect these diseases early on. Glaucoma, Macular Degeneration and Diabetic Retinopathy are just a few that may be found.
Comprehensive Eye Exam From Your Anderson Eye Doctor
Each year your vision can change drastically, therefore you should have your eyes checked annually. When you have an eye exam from us, we use the most advanced equipment. Our experienced eye doctor uses a digital system called CLARIFYE to perform your eye exam. Your doctor will be able to determine your prescription needs for both day and night vision. Also, eye diseases, high blood pressure, diabetes and tumors can be detected. When your exam is completed, your eye doctor can share with you the images and videos of your eye exam. The more you know about your eye history, the better you can care for yourself and your vision.
Eye Glass Fittings By Your Anderson Eye Doctor
We understand that every patient's prescription and lifestyle are going to be different. Therefore, our trained staff will assist you in finding the perfect match of eye glass frames just for you. From the way the frame fits your face, the shape of your face, to the lifestyle that you lead, our experienced eye doctors have worked with many people in your same situation. To give you the most options, we carry one of the most extensive eyeglass collections in the Anderson area, including many designer frames! Our doctor will be happy to discuss your visual needs and are confident we will find the perfect fit just for you.
After your Anderson Eye Doctor has determined you are a good candidate for contact lenses, they will need to perform measurements and have a contact lens fitting. We understand that everyone has different prescriptions, eye sizes and lifestyles, therefore it important to find the right fit for your eyes. Your eye doctor will determine the level of your refractive error (commonly known as nearsightedness, farsightedness, or astigmatism) to see what contact lens works best for you. There are a variety of other tests your doctor may be performed to ensure the lens fits your eye perfectly as well.
Contact Lense Types:
Soft
Rigid Gas Permeable
Disposable
Extended Wear
Bifocal
Multifocal
Astigmatism
Colored Lenses
Once all of your measurements are recorded, your eye doctor will determine which lens best fits your eye and personal needs best. Your Anderson Eye Doctor will go over all of the details of these new contact lenses such as cleaning, wear and the overall care of your contact lens.
Contact Your Anderson Eye Doctor Today!
Whatever service you are looking for to maintain your eye health, our doctors are here to help. If you have any questions for them, please feel free contact us at (317) 770-1633. Also browse through our frequently asked questions to assist with common questions our Anderson patients are curious about. For the convenience of our Anderson clients, you can schedule an appointment online for your next service here. We look forward to meeting you!