Experienced Eye Doctors Indianapolis
Dr. Amy Walden and Associates are a local Indianapolis eye care center located in the Broad Ripple area. We are located near the Glendale mall on Keystone Avenue. We also have a practice in Noblesville, at the Hamilton Town Center. We are welcoming patients from Broad Ripple, Carmel, Westfield, Fishers, Cicero, Anderson, Brownsburg and Lapel and many more cities through out central Indiana. With over 25 years of experience and offer state of the art technology to provide our patients with a comfortable environment at our Eye Doctors Indianapolis.
Our goal is to provide you with excellent eye care and reach all of your needs. We know the importance of adequate eye health and vision to our Indinapoli patients.
Did You Know?
One-third of all Americans by the age of 65, will suffer from a vision-impairing eye disease
Many eye diseases do not show symptoms, but eye doctors can detect many of these in your annual exams.
Early detection, treatment and maintenance can help prevent further vision problems and the risk of vision loss
Adults over 40 should have their checked annually to maintain your eye health.
Children should have their eyes examined every 2 years to ensure they are not experiencing any visions issue that can interfere with their learning.
Quality Care from our Eye Doctors Indianapolis
We know how much eye health, vision, and appearance are important to our Indianapolis patients. Therefore, that is why we are committed to providing your with the utmost care from our eye doctors. Whether you are coming in for a comprehensive eye exam, common eye irritations and or eyeglasses or contact lens prescriptions, we have the experience to fulfill your needs.
Services at Our Indianapolis Location
There is more to vision than renewing your eyeglass or contact lens prescriptions. Did you know you should have a comprehensive eye exam one to two years depending on your overall eye heath? Comprehensive eye exams can detect many vision problems that do not show any symptoms. These include: macular degeneration, glaucoma, corneal ulcers and diabetic retinopathy, just to name a few. They can also detect other health related diseases such as: diabetes, hypertension, autoimmune disorders, high cholesterol, thyroid disease, cancer and even tumors. At your comprehensive eye exam, we use the latest in technology to provide our patients with the most accurate findings. Clarifye eye exams offer the most advanced, digital equipment to map the fingerprint of your eye. This allows your eye doctor to gather five times more information about your eyes. It is the most precise equipment in the eye care industry and pinpoints the small changes that occur in your eye. This exam can even show your eye doctor the difference between your day and night vision. Clarifye gives you a clearer vision of your overall health. The digital measurement is taken in about 60 seconds.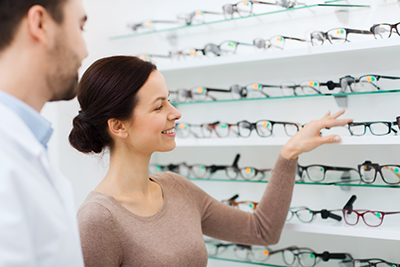 Eyeglass and contact lens prescriptions and fittings are another popular service that our Eye Doctors Indianapolis perform. Once we have your comprehensive eye exam completed and it is determined that you are in need of eyeglasses or contact lenses, our staff is here to help. We offer a large selection of all of the finest designer brands for our Indianapolis patients to choose from. Whatever types of contacts you are looking for, we have a wide variety that will fit your lifestyle and desires. We understand that all of our patients have unique lifestyles and different needs for their activity level. Our experienced staff will ask questions during your appointment, so we can find the perfect fit just for your eyes and needs.
We offer diagnosis of everyday common vision irritations such as dry eye, red eyes, allergies, conjunctivitis (pink eye), eye strain and many other common eye issues. If you have experienced and injury or any other eye issues, we have experience treating a variety of everyday problems. Some of these issues can go away on their own and others require medical attention. Always consult your Eye Doctors Indianapolis if your symptoms persist, it is best to catch the problem as it occurs to help ensure your vision is not compromised.
Why Choose our Eye Doctors Indianapolis?
50 years of combined experience in the eye care field
Two convenient locations in Indianapolis and Noblesville
Latest and most advanced equipment and technology for your eye exams (Clarifye and Optomap)
Comfortable environment
Flexible hours including late hours and weekend hours
Contact our Eye Doctor Indianapolis
We are accepting new patients at our Indianapolis location. We take pride in our service and will provide our patients with the highest care for your overall eye health. If you have any questions on our service and or insurance please feel to give us a call. You can schedule an appointment online today! We look forward to becoming your next Eye Doctors Indianapolis.