Experience McCordsville Eye Doctors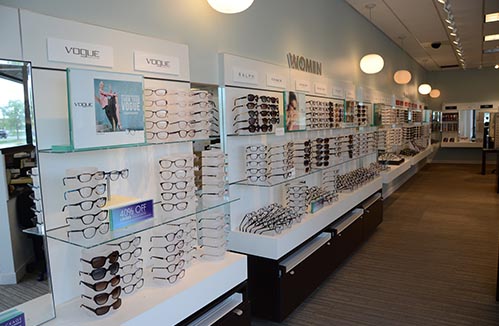 Our goal is to provide you with the best possible care for your eyes to ensure a great quality of life. We strive to perform this for all of our McCordsville patient's vision by using the most advanced technology. Our doctors stay current with the changes in the medical field as well. Our team consists of board certified optometrists and opticians, who are some of the most knowledgeable McCordsville Eye Doctors in the area.
Routine Eye Exams from our McCordsville Eye Doctors
According to the American Optometric Association, every one or two years dependent on age you should have a comprehensive eye exam. This is all dependent on your individual eye history and your age. Many eye exams are covered by your insurance plans. Before you arrive to our office, we ask our McCordsville patient please double check with your insurance provider to ensure that this exam is covered.
When you receive an eye exam from our McCordsville Eye Doctors, we will perform a variety of tests to check the overall health of your eyes. In this exam, your eyes will be examined for any eye diseases. Early detection is key when it comes to maintaining healthy vision. Many of these eye diseases will show no symptoms, that is why having your eyes tested is critical. Another reason it is important to update your eyeglass or contact lens prescription.
Our eye doctors use a digital eye exam system called CLARIFYE. With CLARIFYE you are able to view your results through images and videos that your eye doctors will share upon completion. This new system is quick and the most precise digital technology around. We will also be able to determine your prescription of day and night vision. All eye diseases are detected, along with high blood pressure, tumors and diabetes. This system will give the patient a better understanding of their overall eye health.
McCordsville Eye Doctors Medical Eye Exams
If you are experiencing any symptoms that you are concerned about, our eye doctors can perform a medical eye exam to diagnose what is occurring to your eyes. Many common conditions that occur in our McCordsville patients range from allergies, dry eyes, headaches, red eye, conjunctivitis (pink eye), scratches to foreign items inside the eye. Our McCordsville Eye Doctors are experienced in diagnosing all eye conditions and will provide you will a treatment plan that works for you.
Services at Our McCordsville Eye Exams
Comprehensive eye exams for all ages
Clarifye Digital Eye Exam
Exams to diagnose eye diseases such as – allergies, dry eyes, stigmatism, cataracts, glaucoma, farsightedness, nearsightedness, macular degeneration and presbyopia
Treatment and control of many eye diseases
Prescriptions for medications to treat common eye diseases
Variety of eyeglass frame options
Prescription sunglasses
Contact and eyeglass fittings
Accepting new McCordsville patients
Eyeglass Frames
Our McCordsville Eye Doctors are here to assist in picking out the perfect fit to match your style. We offer a variety of frame styles to choose from at either of our locations. If you are an active person or a person who needs eyeglasses for just everyday activities, we have a pair of frames just for you. We also carry scratch-resistant and anti-reflective eyeglasses. If you are looking for a particular brand, we carry a large selection of designer brands for all ages. Once you have the perfect fit for your prescription and face, we will make all necessary adjustments after your eyeglasses are purchased.
Contact Lens Fittings
When you are a patient of one of our McCordsville Eye Doctors, we offer extensive care to ensure you receive the right fit for your contact lenses. Once you are fitted for your contact lenses, we will describe in detail the care process of your lens. It is important to follow the steps to cleaning your contact lenses to avoid infection. It is also critical to follow the wear schedule that your eye doctor instructs for you. To maintain your vision and have the longest use of your contacts, it is essential to follow these guidelines provided by your eye doctors.
Contact our McCordsville Eye Doctors
If you are looking for an experienced set of eye doctors in the McCordsville area, then Dr. Amy & Associates are the right fit for you. Our goal is to improve your overall health of your vision and perform any necessary services that you need to maintain proper care of your eyes. We offer two convenient locations near McCordsville. Our Indianapolis location is located in the Broad Ripple area and our Noblesville location is in the Hamilton Town Center area. If you have any questions for our staff, please feel free to contact us. We are looking forward to becoming one of your next McCordsville Eye Doctors.