Experienced Noblesville Family Eye Care Center
At our Noblesville Family Eye Care Center we offer 25 years of experience and doctors who provide the utmost care. Our goal is to offer our patients a comfortable environment, while we take care of their overall eye health needs and concerns.
Dr. Amy Walden and Associates are located in Noblesville, near the Hamilton Town Center. Noblesville is located near Fishers, Carmel and Indianapolis. We are proud to server the greater central Indiana and continue to grow each year. We also offer eye care needs at our Indianapolis location. This location is in Broad Ripple, near the Glendale mall.
Our Noblesville Family Eye Care Center is dedicated to ensuring our patients are taken care of each and every visit. That is why we use the most up-to-date technology. We offer high quality products, including designer eye ware for our eyeglasses and sunglasses, along with some eye ware that is ready in an hour. We also educate our patients on how to maintain a healthy lifestyle for their vision. This helps our Noblesville patients understand their unique vision needs and how to properly care for their eyes when they leave our office. We have a full service facility that offers an experienced staff to answer all of the questions that you may have.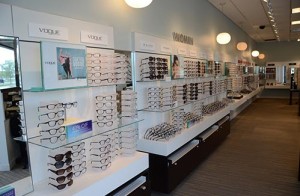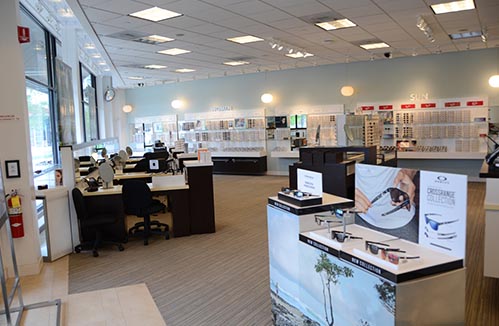 Our Noblesville Family Eye Care Services
Eye Exams
Retinal Screenings for:

Glaucoma
Cataracts
Macular Degeneration

Eye Glass Fitting
Contact Lense Fittings for:

Astigmatism
Disposable
Extended wear
Bi-Focal
Gas Permeable
Colored Lenses

Eye Care Treatment for:
Lasik Surgery
Comprehensive Eye Exam at our Noblesville Family Eye Care
Having a comprehensive eye exam is important for the entire family. Many eye diseases do show any symptoms; therefore, it is crucial you have your eyes examined each year. If you have a young child in your family and they are not experiencing any symptoms, they should have an eye exam every 2 years.
We use the latest and greatest when performing our comprehensive eye exams. CLARIFYE is one of the most advanced digital technologies in the eye care world. This digital machine gathers five times more information about your eyes, in under a minute. This exam is the fingerprint of your eye. With the eye profiler, our eye care facility can get down to .01 of a diopter. The lens profiler allows us to get a digital read on the patient's previous prescription as well. Your old and new prescription can be compared at an instant. This machine also allows your eye doctor to check your night vision. With all of the precise features, CLARIFYE makes our patients feel comfortable and precise results quickly. The patient's can then view what the eye doctor saw right away on a tablet.
Our Noblesville Family Eye Care center offers diagnosis for many other eye diseases and also provides care for allergies, Conjunctivitis (pink eye), eye injuries and much more.
Eyeglass options
We offer a wide range of designer eyeglasses to our clients. No matter what age range is in your family, there is a perfect fit for all. Prada, Michael Kors, Coach, Oakley, Ran-Ban, Versace, Burberry and many more. We will find the best fit for your face, style and also your lifestyle. If you have children, we have a variety of colorful frames that will allow them to embrace their glasses and fit their activeness as well. Let us find the perfect fit for you and your family today!
Contact Lenses at our Noblesville Family Eye Care
At our Noblesville Eye Care center, our goal is to provide you with excellent care to ensure your eye care vision needs are met. After your comprehensive eye exam, our eye doctors will discuss the options of your prescription needs. To begin, we need to make sure you are a good fit for contact lenses. The exam will rule out any pre-existing conditions and will also let your eye doctor know the most accurate prescription according to our findings.
If you choose to go the contact route, we will provide you with a variety of contact lens options and discuss the best fit for you. We want to find a contact solution that best fits your lifestyle, prescription needs, shape of your eye and the overall health of your eye. While you are at your Noblesville location, you will have the option to try on lenses that day and or take a few samples home before you commit to the contact lenses of your choice.
We offer a wide variety of contact lenses to fit the needs and desires of our Noblesville patients. These include:
Daily
Disposable Soft
Hard
Extended Wear
Multifocal / Bifocal
Monovision
Spherical
Toric
Rigid Gas Permeable
Conventional
Color
Visibility Tinted
Opaque
Enhancers
Contact our Noblesville Family Eye Care Center
With our experience and state of the art technology, we are one of the most prominent eye care centers in the area. If you have any questions for our staff and or concerns, please feel to reach out to us. To set up an appointment for an eye exam, please schedule online today. We look forward to helping you and your family achieve your eye care health.