Experienced Noblesville Optometrists
Dr. Amy Walden and Associates have been a premier eye care facility in the Noblesville and Indianapolis area for over 20 years. We offer a variety of optometrists to choose from for all of your eye care needs. We are also accepting new patients for our Noblesville Optometrists.
Our goal is to provide our patients with professional care, using the most state-of-the-art eye care equipment and technology. We offer comprehensive eye exams, eye glass and contact lens fittings, allergy management, LASIK and all types of eye care needs such as diseases, injuries and or any eye care need.
Comprehensive Eye Health Evaluations – Having an eye exam can detect early signs of eye diseases such as glaucoma, cataracts, macular degeneration and many more. Many of these eye diseases do not even show any symptoms at all. That is why it is important to catch these diseases at the early stages, so you can receive treatment. It is also important to have an eye exam to update your prescription needs for eye glasses and or contacts. If you have a child, many children have eye issues that may inhabit their learning abilities. For these reasons getting an annual eye exam should be part of your yearly routine. Our eye exams are also quick and comfortable for our patients, using the most advanced equipment such as Clarifye and the Optomap.
Here is a list of some eye diseases risk factors:
Diabetes
High Blood Pressure
A family history of eye diseases

Glaucoma
Cataracts
Macular Degeneration

Work Conditions

Looking at computer screen all day
Being outside in the sun

Previous Eye Injuries
Eye Surgery
Contact Lenses – We offer a variety of options to choose from for your contact lenses. In our fittings we will learn more about your needs and lifestyle. Whether you wear your contacts full-time, for work, sports or any other activities, we are sure to have a fit for your prescription needs.
Eyeware – At our Noblesville facility, we offer a large selection of brands to choose from for your eye glasses. Dolce & Gabanna, Prada, Versace, Ralph Lauren, Michael Kors, Coach and many more.
Referral and ongoing care – From your initial appointment and years to come, we are committed to providing you with the best care for your eye health.
Why Choose our Noblesville Optometrists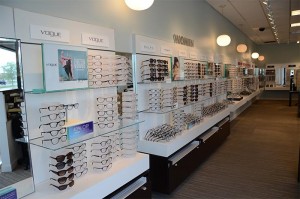 We understand that our Noblesville patients lead a busy life and fitting in an eye appointment can be tricky. That is why we offer a flexible schedule and 2 locations. Our facility offers:
Multiple Locations – If you live in and or close to Noblesville, you will find our location at the Hamilton Town Center at 13230 Harrell Pkwy, Suite 300. Our Indianapolis location is located near Glendale mall, close to Broad Ripple at 6151 Keystone Ave, Suite 800.
Open on Weekends –We understand with a busy work and family life that sometimes during the week it is hard to add yet another appointment to your list. That is why our Noblesville Optometrists are available on Saturdays as well. With this flexible option, we can surely work around your schedule to get your eyes checked.
Online Appointment Scheduling – It is not always convenient to pick up the phone and schedule an appoint. Therefore, we offer an easy, quick accessible way to schedule your appointments online. This way, no matter what time or day, you can jump online and pick the best time that works for you and your family.
Experience. With over 20 years of being in business, our optometrists offers over 50 plus years of experience. We have highly skilled and trained optometrists to meet all of your eye care needs.
Advanced Equipment. We offer the latest technology and equipment in our Noblesville and Indianapolis locations. Clarifye and Optomap are two of the most advanced types of equipment that make your eye exam more accurate and also quicker. This is a bonus to all of our patients and makes them feel more at ease. Not only because it is more comfortable, but because the results can be seen during the exam and tell our Optometrists a multitude of items to ensure overall health of your eyes.
Contact our Noblesville Optometrists
At Dr. Amy Walden and Associates, your eye health is important to use. We are available with flexible hours to ensure we can work with our patients schedules and offer later hours as well. If you need to speak with any of our staff with any questions about eye care, eye glasses, contacts or any other health related questions, feel free to contact our Noblesville office at (317) 770-1633 or contact us online. Our experienced staff of Noblesville Optometrists are ready to access all of your needs. We look forward to meeting you.