Optomap Noblesville is a Quick Easy Procedure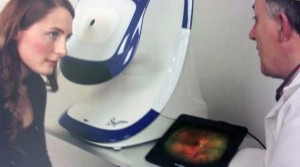 Dr. Amy Walden and Associates have the most advanced technology for your eye care needs. We offer a comfortable environment and digital eye care products to ensure precise measurements during your eye exam. We take pride on helping our Noblesville patients ensure overall health of their eyes, while providing state of the art equipment to do so with our Optomap Noblesville.
Everyone knows the eyes are one of the most important organs in our body. Many people do not keep up with their annual eye exams, not because they don't care about their eyes, but some people genuinely do not like going to the eye doctor for many reasons. Whether it's the tests that are performed, time or they have fear that something may be wrong with their vision.
CLARIYE at our Noblesville Facility
We have good news! At Dr. Amy Walden and Associates, we use the most advanced eye technology for our comprehensive eye exams. CLARIFYE is one of the newest digital eye exams from LensCrafters that allows doctors to gather five times more information about your overall eye health and in an fraction of the time. This exam is so precise, it maps the curvature of your cornea, which gives your eye doctor a fingerprint of your eye. It shows the small changes that happen in your eyes over time and can also give you the different measurements of your day and night vision.
When people have eye exams with CLARIFYE we recommend our patients to include optomap as part of their eye exam. If you have not heard of the optomap it is a retinal imaging device which shows a wide 82% view of your retina at one time. With other devices, about 15% to 45% of your retina is viewed. Not only is it more precise, but it is painless, fast and comfortable. This is a great device for all ages and suitable for the entire family.
Retina screening with Optomap Noblesville
The retina is a delicate lining at the back of the eye. Light strikes the retina, this is then converted into an electric signal, creates a picture when is sent to the brain via the optic nerve. It is important to keep the retina healthy, because it will not be able to send clear signals to the brain if it is unhealthy. If your retina is unhealthy it can lead to potential blindness, however most conditions and and diseases can be treated if detected early. Many eye diseases do not
Did you know that the retina is the only place in the body where blood vessels can be seen directly? Therefore many health issues can be detected via retinal screening. Strokes, heart disease, hypertension and diabetes can all be seen in the retina. Many eye diseases can be detected as well. These include: Diabetes Retinopathy (DR), age-related macular degeneration (AMD), glaucoma, retinal detachment, retinoblastoma, macular pucker, macular hole and floaters, to name a few.
Retina screening is a challenging procedure. With Optomap Noblesville, your doctor can see over 80% more of your retina. This procedure allows your eye doctor to detect diseases earlier and it is also a diagnostic tool. The optomap is quicker then other retinal screenings. The exam is simple for the patient, all you have to do is look into the device one eye at a time (looking through a keyhole). A quick flash of light lets you know the image of your retina has been taken. Usually your eyes will not need to be dilated, but this is all dependent on your history and the overall health of your eyes. The process takes about a second and the images can be viewed immediately. You can view these and these images are saved for future use as well.
Benefits of Optomap Noblesville
There are many benefits to the optomap. Here are a few:
Early detection of eye and health disease.
Facilitates early protection from vision impairment or blindness
This devices see 80% of your retina
Easy, quick, painless
Images are saved for later viewing and comparison
Contact us for your next Optomap Noblesville eye exam
Next time you have an eye exam, an optomap would be a beneficial part of the exam. You can see clearly and not even know you have potential problems occurring in your eyes. The retina does not have nerve endings therefore, you may feel no pain. There are many reasons as stated above why an optomap is an important part of your Noblesville eye exam. Please feel free to contact us if you have any questions at all on the optomap, we would be glad to assist.