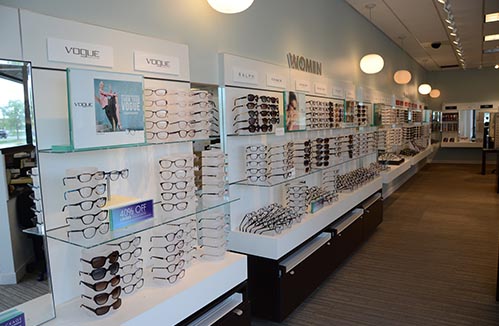 For over 20 years, Dr. Amy Walden & Associates has been serving Indianapolis and surrounding areas. We are located at Lenscrafters in the heart of Broad Ripple at the Glendale Mall as well as Hamilton Town Center in Noblesville. Our centralized locations make it quick and easy to visit one of our offices. Our eye doctors are always readily available to provide quality care for each of our patients with our Optometrist Indianapolis.
Our office utilizes state-of-the-art optometry equipment that will determine prescription, diagnose your eyes, and find the perfect fitting. Our qualified staff will also assist you when choosing from our variety of glasses and contact lenses. Our Optometrist Indianapolis ensures each of our patients is taken care of, from answering initial questions and concerns to fitting you into your new frames. Dr. Amy Walden & Associates put our patients first.
An Optometrist Indianapolis for Children and Adults
Our team of Optometrists understands the importance of taking care of your vision, so we make sure to provide complete, quality care for each patient, of any age. Our exams are all-inclusive and thorough and should be given annually for adults and every 2 years for children. We start with a general questionnaire followed by a series of in-depth tests to pinpoint the overall health of a patient's eyes. Parents should always factor in that children can also develop vision problems and get they should be checked just as often. A child with vision problems can face issues such as reading problems, poor hand-eye coordination, squinting to look at things, light sensitivity, or going cross-eyed. Our office can provide care for your child to ensure they receive the best vision correction so they can easily participate in school and sports. It is also very important that adults have their eyes checked yearly since many eye disease symptoms often go unnoticed. Come in to our office and one of our experts can help detect any eye issue early on to prevent any major problems and guarantee you are in excellent eye health.
During an eye exam, we will determine your prescription requirements, whether it be eyeglasses, contact lenses, or both, and then offer fittings for them so you can know exactly how they will fit you. All of our exams are performed by a digital system called CLARIFYE, which allows our eye doctors to perform a more advanced eye examination quickly and efficiently. In a matter of minutes, the patient can view the results through imagery, videos, and vision simulation. This sophisticated system not only detects vision problems, but also high blood pressure, tumors, and diabetes. Our Optometrist Indianapolis also runs Retinal Screenings for Glaucoma, Cataracts, and Macular Degeneration by using a progressive system called Optomap. We will also provide you with only the best eyeglass and contact lens options. Our selection of eyeglasses is extensive, so you can find the best size and color to best compliment your facial features. Our helpful online tool, the Lenssimulator, makes it easy to browse our collection of eyeglasses before your actual appointment. We offer personalized contact lens fittings tailored to your needs, whether it be Disposable, Extended wear, Astigmatism, Bi-Focal, Colored, or Gas Permeable. We also take care of any eye issues you may encounter, such as the common eye infection or allergic reaction.
Why Choose Our Optometrist Indianapolis?
Our group of experienced and professional eye doctors is fully qualified to provide only the best eye care to our patients. At Dr. Amy Walden & Associates, our two offices are staffed with licensed professionals who are trained in the field of Optometry and a friendly support staff that is ready to assist you and answer any questions you may have. Our team is highly skilled in conducting procedures such as comprehensive eye exams for both children and adults, treating a range of eye problems including eye infections, allergic reactions, scratches, or sudden loss of vision, and also determining the most accurate prescriptions for your eyeglasses and contact lenses. With each pair of eyeglasses and contact lenses, you will know you are in good hands when working with one an Optometrist Indianapolis.
Insurance and Medicare
We work with most major insurance plans, such as Humana, Aetna, Eyemed, and Superior, to name a few. Our staff is more than happy to assist you in all of your insurance questions or concerns. You can also check to see if you are covered by one of our plans on our insurance policy page. In Medicare cases, please remember that payment is reimbursed after the initial visit, so patients will still be responsible for payment at the time of exam.
Flexible and Accessible
Dr. Walden & Associates works around our patient's busy schedules so that they receive treatment when and where they want. Our centralized locations make it an easy trip for any Indianapolis resident. Whether you are on the Northside or Downtown, your eye exam is only a short distance away. If you wish to schedule an appointment but can't find the time to call us, you can easily schedule your appointment online. When it comes to our hours, we make it easy on our patients by opening our doors on the weekends. We understand how busy the work week can become, so we put your needs first.
Contact an Optometrist Indianapolis Today!
If you are in search of an eye doctor that will provide you the best service in Indianapolis while working around your busy schedule, you have come to the right place. Contact us today to schedule an appointment with our optometrist today!