When choosing which Indianapolis Eye Care Center, we understand that this can be a daunting process. There are so many eye doctors in the Noblesville and Broad Ripple area to browse through. Many people look at reviews and or are referred to their doctors by their friends or family. However you decide to choose your next eye doctor, it is important to pick a doctor that fits your needs and also that you feel comfortable with.
At Dr. Amy Walden & Associates we do everything possible to make our patients feel comfortable and have the most advanced technology to make their eye exam as quick and painless as possible. There are many reasons that we feel our patient's continue to come back to us and also why we acquire more.
4 Reasons Why We Believe Our Patient's Choose Our Indianapolis Eye Care Center
Dependable and Experience. We have been in the Noblesville and Indianapolis area for almost 25 years. With our experience and knowledge, we are dependable to have the answers that you are looking for when you come to see our eye doctors.
Advanced Technology. We offer our patient's the most state of the art and advanced technology out there. When you have an eye exam, we use Clarifye and the Optomap to perform your exam. Not only will your eye exam be quick, but it will be more precise and accurate. This digital eye exam will give your eye doctor a fingerprint of your eye. They will then be able to share these images with you at the end of your exam. This technology can also tell the difference between your day and night vision. In most cases, you will not have to have your eyes dilated either.
Flexibility. We understand that everyone has a busy schedule. Whether it is work, your family, sports and or just the normal daily grind, life can become too busy to find time take care of your health. That is why we offer early and late hours, while also offering weekend hours. We also have two convenient Indianapolis Eye Care Center locations for our patients. One is located in Noblesville, near the Hamilton Town Center. The other location is in Indianapolis, near Broad Ripple by the Glendale mall.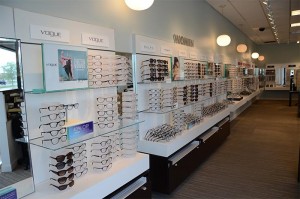 We offer a large selection of lenses. We have patients of all ages and with all kinds of styles. That is why we offer a huge selection of eyeglasses and contact lenses to fit their styles and also their lifestyles. We also offer a variety of sunglasses to protect your eyes. Some of our most popular brands that we offer for all types of lenses are Ray-Ban, Ralph Lauren, Coach, Michael Kors, Vogue, Versace, Prada and many more. If you are interested in contact lenses, we offer all types such as daily wear, extended-wear, toric, multifocal, bifocal, hard lenses and many more.
Visit Either Of Our Indianapolis Eye Care Center Locations Today
Our goal at Dr. Amy Walden & Associates is to put our patients first and most importantly maintain their eye health. With many patient's being referrals, we are happy that we continue to grow and are accepting new patients. If you are looking for an experienced Indianapolis Eye Care Center, with knowledge and advanced technology, set up an appointment with us today.