Choosing the Right Indianapolis Contact Lenses

Choosing your next lenses can be a very difficult process. It takes the perfect location and knowledgeable doctor to get you into your perfect pair. Contact lenses can correct your vision without the distraction of glasses. There can be more maintenance with Indianapolis Contact Lenses, yet they are more favorable. If you are interested in learning more about our Indianapolis Eye Doctors, for your pair of contacts contact us today!
Why Use Indianapolis Contact Lenses?
Entire field of view is in focus.
No annoying obstructions or reflections.
Right on eye for more natural vision.
No extra weight.
Contacts do not fog.
No distractions.
Do not collect precipitation and blur vision.
Before Your First Appointment
Before you get fitted for your perfect Indianapolis Contact Lenses, Amy Walden and Associates will complete a comprehensive eye exam. You do not have to fear an invasive eye exam; our Indianapolis Eye Doctors have the most advanced digital eye equipment. Our doctors use CLARIFYE for all of our comprehensive exams. This test is not only more precise; they are much faster than standard eye exam tests. During your first appointment, CLARIFYE can test your day and night vision all at the same time. Comprehensive exams are not only good for your overall vision; other conditions will be checked such as diabetes, tumors, and high blood pressure.
During the appointment, our Doctors will be sure that there are no health issues that would pose issues with your contact lenses. We do recommend an annual eye exam for all patients, especially those with lenses.
Our Contact Lense Fittings
Your Background
At your fitting appointment, your Indianapolis Eye Doctor will collect detailed medical history to discuss any problems that may affect the success of contact lenses.
Your Measurements
There are many eye shapes and sizes, making the your fitting very important. What fits on one eye may not fit another. To determine your best fit, our optometrists will measure the curvature of your eye, curvature of the cornea, pupil size, and diameter of your iris. There is a chance that our doctors may test your body's ability to produce tears.
All of this information will help our Eye Doctors to determine the best Indianapolis Contact Lenses for your prescription.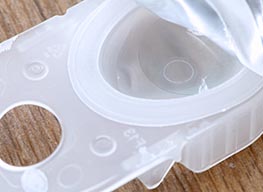 Eye Conditions
There are a few conditions that make wearing contact lenses almost impossible. At Dr. Amy Walden and Associates, we are trained to find the best lenses that will help you see at your best. We want to be sure to work with you to find what suits all of your vision needs.
Astigmatism
An astigmatism is a condition in which either cornea or the lens behind is an irregular shape. Having astigmatism can make wearing contacts very difficult and uncomfortable.
Dry Eyes
Dry eyes can be a very irritating condition. Wearing our contact lenses can make this condition even worse. When working with one of our optometrists, we will be able to find you the best contact lenses that retain moisture and allow oxygen to your eyes.
Post Refractive Surgery (LASIK)
If you are still in need of corrective lenses after you have LASIK or other refractive surgery, our doctors will recommend the perfect Indianapolis Contact Lenses. After surgeries, such as LASIK, your eyes can change the shape of your cornea, making traditional lenses uncomfortable or ineffective. In most cases, an optometrist will recommend a hybrid lens, or high definition lens. A hybrid lens will offer the correcting benefits of rigid lens with the comfort of soft lenses. A high definition lens will correct refractive problems will providing sharper vision to the wearer.
Follow Up
After you have been fitted for your Indianapolis Contact Lenses we recommend scheduling a follow up appointment to check on your eyes. During this follow up, optometrists will be able to see warning signs, even if there are no complications yet. If there are complications that arise at your appointment, our optometrists will be able to prescribe you a new type of lens, of offer a different care regimen for your lenses. Most guests have few, if any complications once we find you were perfect lenses.
Eye Care Insurance
We accept a wide verity of Insurances. You can find a list of our providers here. If you need any help filing out of network claims, we would be more than happy to help!
Schedule an Appointment Today!
Are you ready to book your appointment for your Indianapolis Contact Lenses at Dr. Amy Walden and Associates? Feel free to give us a call at (317) 770-1633 or using our online scheduling tool.