Experienced Noblesville Eye Exam Company
Do you have history of health problems in the family? Are you having vision problems? Has it been longer than a year since your last comprehensive eye exam? If you have answered yes, to any of these questions it may be time for a comprehensive eye exam in our Noblesville / Fishers or Indianapolis offices! Our highly trained staff works hard to provide one-on-one, personalized care in order to make you feel comfortable at your visit. The optometrists of Dr. Amy Walden and Associates truly care about making sure that both your visual well-being and overall health are at their best!
The Importance of a Noblesville Eye Exam
Regardless of your age and or health, a comprehensive eye exam is always a good idea to detect any vision problems and also early stages of many eye diseases. Eye exams are important for children to maintain their development in school and in learning. Vision is linked to learning problems and children may fall back in school if they are having trouble seeing. Adults should always have an eye exam performed to keep their current prescriptions up to date if necessary and also be screened for any signs of early eye disease. Many eye diseases such as glaucoma, age-related macular degeneration, cataracts, diabetic retinopathy, dry eye and many others. Eye exams can detect health issues such as diabetes, hypertension, tumors, autoimmune disorders, high cholesterol, thyroid disease and cancer.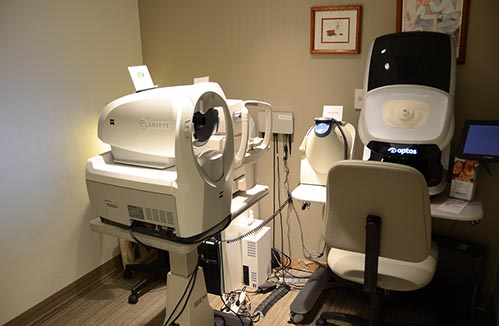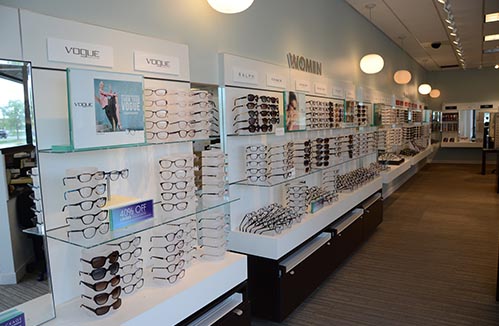 Reasons to schedule an eye exam
Many people schedule an eye exam every year, such as the beginning of the year or if you have children, maybe you schedule it at the beginning of the school year. However, if you experience any of these symptoms, it is time to schedule an eye exam.
Any changes in your vision
Blurred or fuzzy vision
Eye pain
Eye strain
Extreme or consistent headaches
Seeing spots
Dry or red eyes
It is always a good idea to schedule an eye exam when your symptoms start. If you let these symptoms continue, damage or permanent damage can occur to your eyes.
CLARIFYE
Our eye exams have just become faster and more accurate due to CLARIFYE. With the advances in technology, our office has one of the most advanced pieces of equipment that is out there. From the moment you start your eye exam, you will see how far this new process has come. No more old fashioned equipment, at Dr. Amy Walden & Associates, we will now have a more comprehensive understanding of your overall eye health and vision.
When using CLARIFYE, your eye doctor will be able to have a good idea what your prescription is before asking you a long list of questions. CLARIFYE can also detect eye and health diseases such as cataracts, glaucoma, high blood pressure and diabetes to name a few. This new technology maps the curvature of your cornea and shows any changes that occurs in your eyes. This feature provides differences between your day and night vision. With Clarifye your digital measurement can be completed in 60 seconds. This saves time for questions with your doctor and more time for your daily tasks.
Optomap Noblesville
A retinal screening is another part of your eye exam. With the Optomap Noblesville, your doctor can see over 40% more of your retina than with other retina screening tests. With this procedure your eye doctors can detect eye diseases earlier. The exam is more comfortable for our patients and the test takes about a second to perform. The patient will look through a "keyhole", see a quick flash and images of their retina will be taken. In most cases your eyes will not have to be dilated, but this is all dependent on your eye history and the overall health of your eyes. The images from this exam can then be used to compare at future visits.
Benefits of Optomap Noblesville
There are many benefits to the optomap. Here are a few:
Early detection of eye and health diseases
200 degrees of the retina can be analyzed, opposed to 30% using older devices
Facilitates early protection from vision impairment or blindness
Quick and painless
Images can be compared at future visits